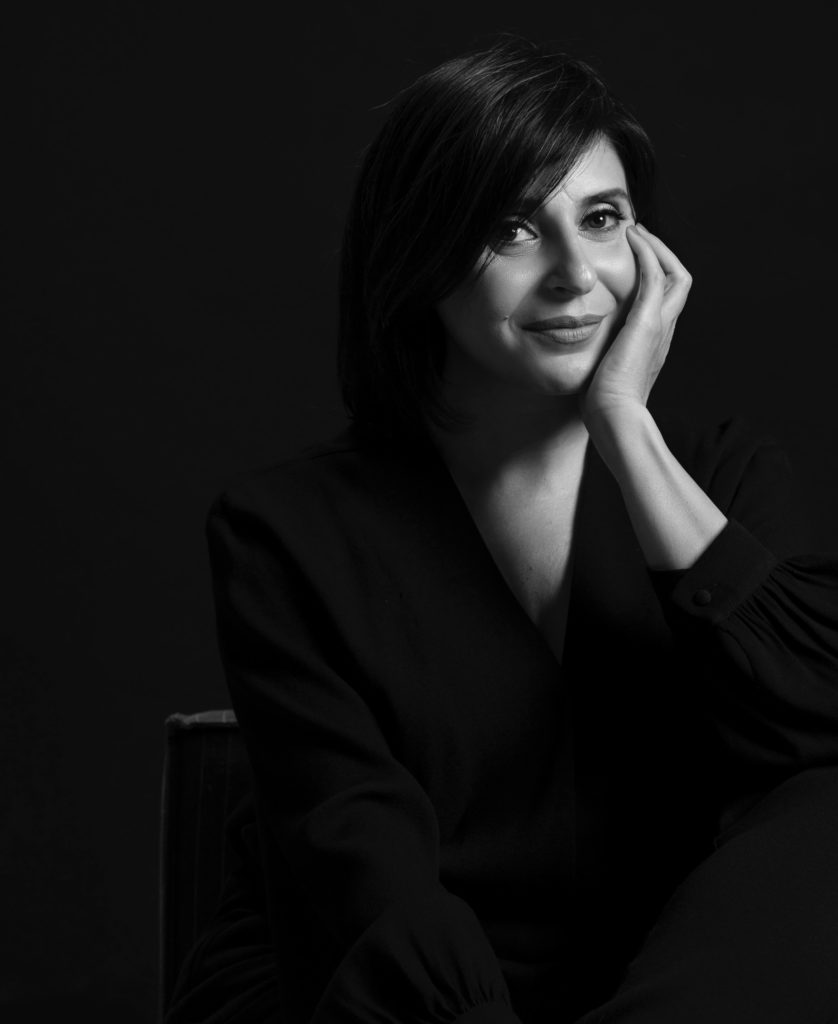 Facebook @fadiaahmadphotography
Instagram @fadiaahmadphotography
Fadia Ahmad was born in 1975 in Alicante, Spain. She returns to Lebanon in 1991, after a long exile and studied at IESAV in Beirut film production and cinematography, and the art of photography, currently lives and works between Beirut & Paris.
She creates series of portraits and landscapes particularly in Africa, the Middle East & Asia. Engaged in humanitarian issues, she releases two series, photography & video, about refugees in Lebanon (Camps; It could be you). She later returns to Lebanon in 2002, and undertakes in the following year the Beyrouth | Beirut series.
Sincere, passionate, when you first meet her it is like you know her since ever, an amazing story teller, she makes you love Lebanon the way she describes Lebanese, her photographs are conceived as paintings, in color or black and white, in large scale, some carefully framed, others snapped in an instant and sometimes at the image of the Lebanese capital, with its intricate layers, its differences and its feel, just like her sensitive and precise, poetic and humanist.
They affirm a present-day vision, and portray an artist who refers often to the universal history of art and photography. From the wave of Hokusai to the landscapes of Courbet, from monochromes and abstracts to the geometric abstractions of Peter Halley, from the chromos of Ed Ruscha to the urban architecture of Michael Wolf, from the photos of graffiti and signals of Peter Klasen to the inscriptions of street artists.
Her Book Beyrouth | Beirut is available online on her website, in Lebanese Libraries and around the world.
The Interview:
How you became a Fine Art Photographer?
I was born in Spain due to the war and I never had the chance to come and see my country, the only way I saw it was through my mother's eyes, she used to tell us about it, living by the sea I always thought and dreamed that over the horizon I will be some day and get to know my beloved country and reunite with my roots.
When I came back, I studied film production, cinematography and the art of photography but the ideal that I had in my visions and dreams about Lebanon was different in reality. Someplace in my heart I knew that what I had imagined was true, so I decided to revive this feeling by walking Beirut daily since 2003 along a 10,452-meter route, a sample of territory related to the surface area of Lebanon: 10,452 square meters. Neighborhood after neighborhood, house after house "I decided to follow this itinerary, always the same, to avoid being dispersed. It is its consistency that allows me to discover, to unite with this city. " Fadia Ahmad
And BEYROUTH | BEIRUT, came back to life, bringing together for the first time a large set of big-format photographs dedicated to the city of Beirut and its inhabitants, sometimes showing traces of war, the photos more importantly demonstrate the desire of the Lebanese people to live and thrive.
This series is certainly the one that is the dearest to my heart, It is a constant dialogue I was having with the city of Beirut traveling daily with my camera in order to capture it, It is like Beirut, the partition, the difference, the ambience.
These photo-paintings, far from being a documentary on the city, are a quest for light and beauty. They witness a search for the essence of emotion and show poetic instants nestled in the slightest details.
Beyond the city of Beirut, where this event took place for the first time in https://www.beitbeirut.org, the exhibition will take place in Amman from the 3rd of February to the 23rd of March supporting a commitment to a territory and an artistic project aiming to make contemporary art accessible to the general public.
Under the patronage of HRH Princess Ghida Talal, the royal Society of Fine Arts, in the Jordan National Gallery of Fine Arts opening from 9:00 AM until 5:00 PM daily expect Fridays offering programs for the public.
The artist and the curator Pascale Le Thorel will offer guided tours of the exhibition in the days following the opening.
A mediator will be welcoming visitors and offering guided tours (upon request).
Guided visits can be arranged for groups, schools and universities, a wide range of fun learning resources will be made available to students and teachers encouraging engagement with art and ideas.
Book Signing February 3rd from 5:00 PM to 7:00 PM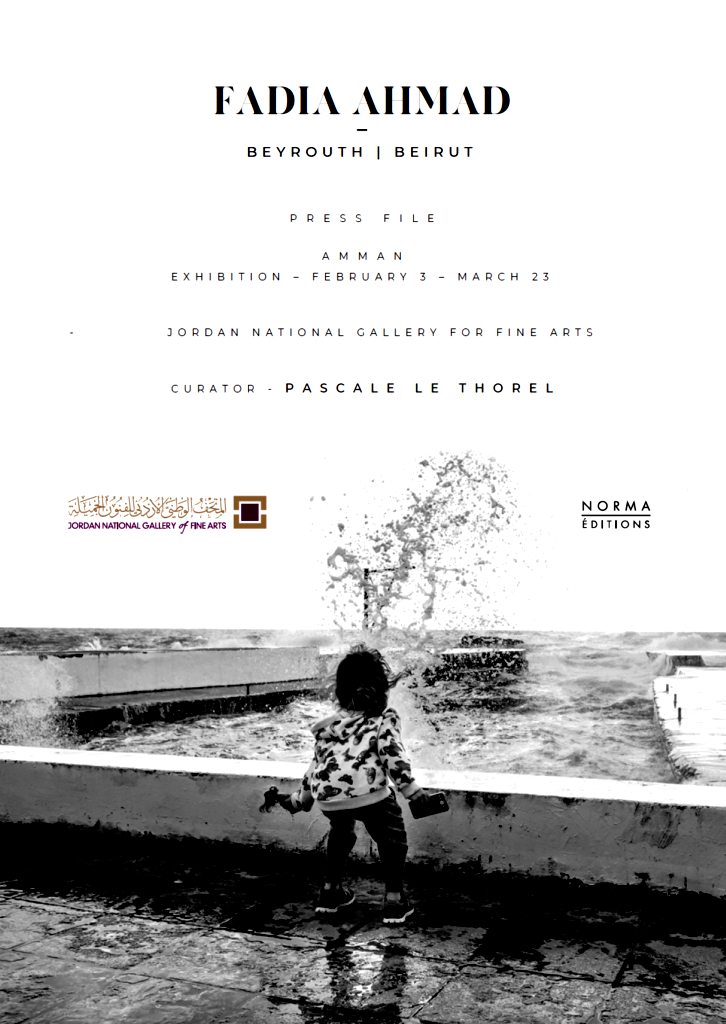 Your Role models (any field)?
My Father
What are the important turning points in your life?
Motherhood

What are your favorite?
Taste : morning coffee
Scent : Lemon tree
Feel : Cashmere
Scene : Sea
Sound :Water

What is your current state of mind?
Positivity
What do you consider your greatest achievement?
My Kids
What is your most marked characteristic?
Tolerance and positivity
What is your favorite occupation?
Photography
What do you most value in your friends?
Honesty
Who are your heroes in real life?
My Father again
What is your ultimate dislike?
Violence
What you wish for all the time?
Peace
What do you expect from the future?
Surprises, I like it to be unknown
What is your favorite daily wear attire?
Jeans
What things in life are still mysteries to you?
Faith
What was the last gift you gave someone?
A Piece of my Heart
What is the funniest thing that has happened to you recently?
Christmas dance with my family
What is your biggest fear?
Losing someone I love
What would be your super power?
I can see a feeling and turn it into an image for others to see and feel
What would be a good theme song for your life?
What would you name your boat if you had one?
Yasnoor
What inspires you?
Each and every person crossing my path
What is your advice for your younger self?
Always make your dreams come true
Define Art?
Art is everywhere you just need to feel it to see it
You pick Freedom or Security?
Freedom
What's your spirit animal?
Rabbit symbol of prosperity, abundance and longevity. Rabbits are cute, cuddly, and very approachable. It means that you have no problem expressing happiness and affection when it comes to people you love. It also means speed, you are quick on your feet when it comes to doing the things that you love, and you are fast in recognizing opportunities that will get you closer to your goals.
#fadiaahmad #beyrouthbeirut #photography #fineartphotography #exhibition #lebanon #beirut #beyrouth #jordan #amman #thepatwalk #magazine #lebanese باتواك #مجلة #لبنانية #تصوير#