His grandfather and father were menswear high quality tailors making perfect fit suits .
He grew up in this environment and his curiosity in design grew up with him.
His childhood memories drove him to follow the lead and he became a menswear designer.
Today He is the most sought after designer in men's suit made to measure design.
His unparalleled talent and his high sense of style, add to it his precise measurements, meticulous finishing came together to create the perfect fit piece that compliments the body type of each client.
Every piece is carefully handled, during the production phase the garment is checked. The tuning, the fillings are all made of cotton and silk of superior quality to ensure the clients comfort. Horsehair fabric is used to make the garment durable and lasting.
Each garment is inscribed with the initials on hems or sewed with the client's name or blazer to make it even more special. Personalized garments are a privilege that plenty of his loyal customers appreciate.
Next time you want to be wearing a «boudi dib su misura» you have to follow the process of one appointment to take all the measurements, discuss your special requirements, select the fabric, color, model and fit down to the last detail as the pockets and buttons based on your physical structure and personal style.
A second appointment for the fitting with fine tuning.
And you will be wearing a flawless, impeccable made to measure garment.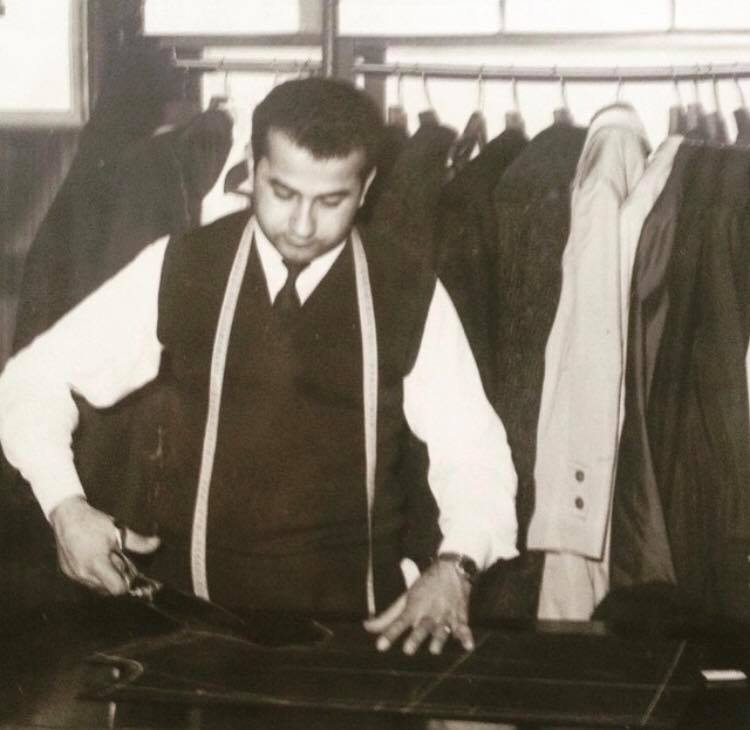 The Interview
How you became a menswear fashion designer?
In 2000 after obtaining a Master degree in Economics I specialized in design and tailoring at Istituto Secoli in Milano – Italy highly reputable school of fashion .
My instructors and colleagues were the firsts to discover my talent.
My passion for designing coupled with my attention to details brought forth garments of the finest quality.
Coming back to Lebanon, I opened my atelier and started the business that flourished since.
In 2010 I started my own brand «Boudi Dib su misura» and because of my realistic approach to the business, fair prices, great quality, I was able to leave my own unique signature as a designer of men suits, now I expanded to suits, coats for women and a shoes collection for men.
What are the important turning points in your life?
Going to Milano to Learn Fashion Design.
What are your favorites?
Taste : Chocolate
Scent : women's skin
Feel : Speed
Scene : Sea
Sound : Sewing machine.
What is your current state of mind?
Peace.
What do you consider your greatest achievement?
How aware I was about building my brand.
What is your most marked characteristic?
Short tempered.
What is your favorite occupation?
Boat Rides and Music.
What do you most value in your friends?
Honesty.
Who are your heroes in real life?
Any married man with kids 🙂
What is your ultimate dislike?
Cigarettes.
What do you wish for all the time?
Health.
What do you expect from the future?
Staying in a good health to continue what I am doing.
What is your favorite daily wear attire?
Italian Chic.
What things in life are still mysteries?
Women's brain 🙂
What was the last gift you gave someone?
A ski trip.
What is the funniest thing that has happened to you recently?
Failed blind date.
What is your biggest fear?
Getting old.
What would be your super power?
Reading women's mind.
Being the Mel Gibson in his «What women want» movie 🙂
What would be a good theme song for your life?
«Otherside» – Red Hot Chili Peppers.
What would be the name of your boat?
«Su Misura» sur mesure in Italian.
What is the best/worst purchase you've ever made?
Best: My Ferrari cars collection.
What inspires you?
Competiton.
An advice for your Younger Self?
Understand your parents and trust their life experience.
Define Art?
Infinite Interpretation of things.
Describe yourself in 3 words?
Romantically short tempered.
What is your spirit animal?
Hyena incredibly versatile, heroic and cunning.
Typically found in packs, with each one closely supporting the others, great community model with strong individual will.
The spirit animal is ready to charm anyone with its perpetually smiling face, comfortable whether on the front lines or in a support role, and they make it difficult for others to feel any animosity towards them.